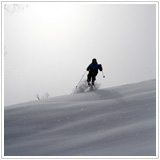 One of Asahikawa's best kept secrets, Kamui Ski Links (KSL) is renowned for extremely fine dry snow and varied terrain that offers something for everybody. Thanks to it's proximity to Asahikawa City, it is a favorite with Asahikawa locals and highly recommended addition to any good powder tour of Northern Hokkaido. KSL is conveniently nestled among sheltering hills allowing snow at Kamui to accumulate for the most part undisturbed and making for remarkably deep and smooth riding during the first session of the day. With the surrounding hills providing a wind buffer, closures due to adverse weather are few and far between.
At Kamui you will find 10 groomed courses and plenty of chances to go off- course and get into the trees. The groomed courses vary in length and difficulty offering plenty for both experienced riders and beginners. Even the beginner courses in the bottom third of the hill have short steeper sections allowing beginners to hone their skills. Along the fringes of most groomed runs you'll be able to duck into wide, deep collections of super-dry powder.
Those with more experience and an adventurous spirit will want to get into the trees, and at Kamui, if you see it, you can ride it since there are no off-piste restrictions. A veritable shorgasboard of perfect powder is served up amongst the trees, offering steep, smooth and challenging runs all day.
Kamui operates a total of 8 lifts, one gondola and 7 chair lifts. During weekends you can expect a short wait in line to get on, particularly for the gondola, but expect little or no wait Mondays through Fridays. With locals at work and no close resort-style accommodation, KSL gives you a traffic-free day in perfect snow.
To complement a perfect days skiing and snowboarding, KSL has a few options for winding down and relaxing.
Several food and drink alternatives can be found in the main building at the bottom of the hill. On the ground floor next to the rental station you will find a small snack bar where you can quickly get a hot snack and a drink from one of the many vending machines.
Take the stairs to the second floor and you will find a food hall serving deep-fried goodies as well as curry and ramen. On the opposite side you will find a more formal setup where you can grab a table and order lunch. Both areas feature wall to ceiling windows offering a pleasant view of the mountain and runs.
Those that enjoy a good brew can grab a beer from one of the vending machines in the corridor.
At the top of the gondola you will find Cafe 751. Here you can enjoy the comfort of the fireplace, good beats, hot food, coffee, beer (and other), and a beautiful view back down the hill.
KSL is a local ski hill managed, as they like to say, "by skiers, for skiers", and athough it's not blessed with the full complement of facilities common to modern ski resorts, it is blessed with amazing snow worthy of serious consideration when planning a powder tour of Hokkaido.